Highlights
Workshop CV | Técnico Summer Internships 2023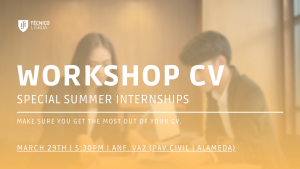 The CV is one of the most important documents for any student preparing for their next step in the professional world. It is also an essential element of your application for Técnico Summer Internships.
Make sure you get the most out of your CV in the next CV Workshop – Summer Internships Edition provided by Deloitte. You'll learn:
How you can organize your CV in the best way;
How you can enhance your CV;
What information should you include on your CV and what information should you leave out?
March 29, from 5:30 pm to 7 pm, at Anf. VA2 in Pav. de Civil (Floor -1), Alameda.
Registration is mandatory and can be done here.
The workshop will be guided by André Rodrigues, People Attraction & Recruitment at Deloitte.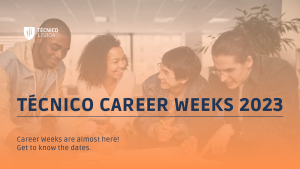 Técnico Career Weeks are back.
Técnico Career Weeks are events organized exclusively by Student Organizations and for students, with the involvement of companies related to the areas of activity of each course.
These events aim to support students in choosing their professional future and allow companies to make themselves known to Técnico students.
Through lectures, workshops and debates, students will be able to get to know their area, the market, train their skills, identify opportunities for summer internships or exchange contacts for the future.
The dates for the Career Weeks are as follows:
Next Events
March & April
21/03 – Meetup with a Company | Kearney + info
22/03 – Técnico Summer Internships | Clarification Session + info
23/03 – Meetup with a Company | CISCO + info
03/04 – Company Presentation Session | Jerónimo Martins + info
5 e 6/04 – Talent Bootcamp + info