Highlights
TecInnov NOS 2023 | Applications open!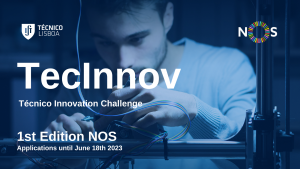 If you like to develop creative technological solutions, TecInnov NOS 2023 is a contest that will challenge you to develop a project to solve problems related to specific NOS issues.

Through this contest, you can get the resources and support you need to build a solid proof of concept for your idea, taking it beyond the conceptual stage.

Submit a proposal for a solution to a problem in one of the thematic areas and qualify to win up to €2,500 to test your idea.
Thematic Areas:
A television for everyone;

Welcome "HERE"!​;

How can I make my router more inclusive? 

An office for everyone;

Solutions and sustainability, innovation and knowledge linked to the universe of telecommunications in general and the case of NOS in particular.

We also encourage you to share this opportunity with your colleagues who may be interested in participating. Together, we can drive innovation and create a better future.
For questions or doubts please contact: tt@tecnico.ulisboa.pt
If you want to know more about the program or past editions here.
Next Events
June & July
Until 18/06 – TecInnov NOS 2023 + info
5/07 – E.Awards@Técnico Final + info