Job Bank
Discover the employment platform aimed exclusively at Técnico's students and recent graduates
What is it?
Técnico Job Bank is Instituto Superior Técnico's employment portal aimed at all students who attend Técnico in order to obtain a degree, recent graduates and alumni of Técnico (graduated less than 2 years ago).
 Why?
Regularly accessing the Técnico Job Bank is a good way to keep up to date with the opportunities that arise in your area of interest and to get to know the job market.
Being registered on the platform will also allow you to receive information about the various activities that we are carrying out throughout the academic year and thus choosing those in which you will be interested in participating.
By using the Técnico Job Bank platform you can:
Access internships and job offers directed to your profile.
Customize your personal profile, make it public and set up job alerts targeted to your course.
Search and follow the companies registered at Técnico Job Bank.
Where? When?
All students of Técnico can access the portal, inasmuch as:
Case 1 – Authorized Data Transfer
If you have authorization to transfer Access to Técnico Job Bank data in the Fénix system, it is possible that you already have access to the Técnico Job Bank platform.
If so, access this link: https://jobbank.tecnico.ulisboa.pt and enter the technician's credentials (IST ID + Password).
Case 2 – I do not have Data Transfer Authorization
Those who do not yet have authorization to transfer data in the Fénix system must follow these instructions:
1st step: Authorize the transfer of data in the Fénix system.
How?
Access the Fénix system, click on "STUDENT" and then click on "DATA SHARE AUTHORIZATION".
You must choose the option that contemplates Access to the Job Bank Technician.
Choose the second or third option, as shown in the photo below: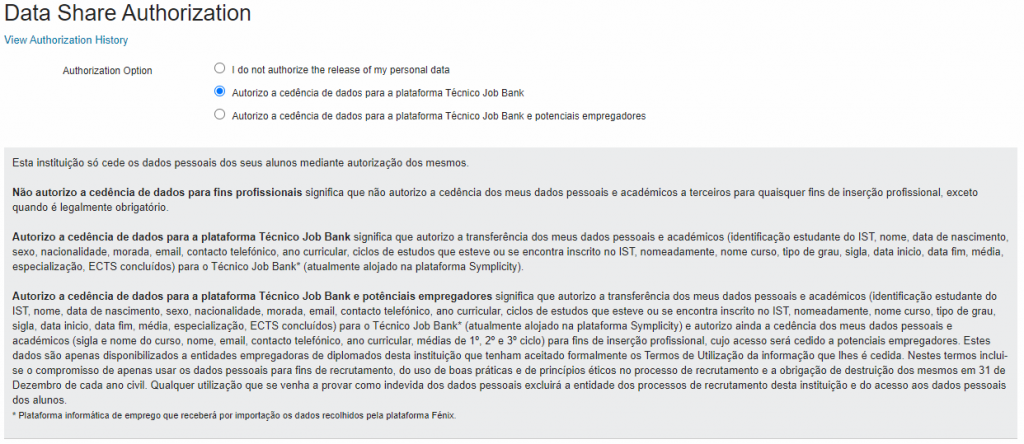 2nd step:
Within one month*, you will have access to the platform.
* Normally, data updates on the portal are carried out on a monthly basis, typically between the 10th and 20th of each month, exceptionally during the application period for summer internships, they must be updated weekly.
You can access the Técnico Job Bank via the web or via the App:
Do you have questions about setting up your personal profile or other issues?
Send us an e-mail for careercenter@tecnico.ulisboa.pt.
Useful links:
Additional Information: